Many people know that, in Michigan, a residential builder must hold a residential builders' license.  However, most people may are not aware that other construction trades must be licensed as a residential maintenance and alteration contractor ("an M&A license").  Up until last week, residential painters were required to maintain an M&A license.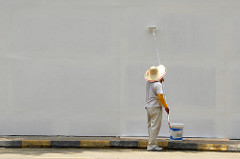 A few months ago, the State of Michigan enacted an under-the-radar amendment to the Michigan Occupational Code, which removed the M&A license requirement for residential painters.  The argument to remove the licensing requirement is that it would remove an unnecessary and burdensome obstacle to starting and maintaining a residential painting business in Michigan, and enable entrepreneurs to put the dollars currently spent on license fees into starting and growing their business.   Before this week, in order to get that license, the individual must first complete a 60-hour educational course and then pass an exam to obtain the M&A license.  The course and each component of the exam cost more than $100, thus requiring a person to expend time and several hundred dollars before being able to begin earning a living as a residential painter.
When painters were originally required to be licensed, the thinking was that it would help prevent scam artists and sloppy work.  Importantly, once painters are no longer licensed by the State, a property owner who suffers damage or harm has a remedy under the Michigan Consumer Protection Act ("MCPA"), which helps to regulate unlicensed trades.  Licensed trades are exempt from the requirements of the MCPA.
So which trades will still need an M&A license in Michigan?  As of this week, an M&A license will be needed for the following crafts / trades:
Carpentry (A)

Concrete (B)

Swimming pool installation (S)

Waterproofing a basement (T)

Excavation (D)

Insulation work (G)

Masonry work (l)

Roofing (M)

Siding and gutters (K)

Screen or storm sash installation (N)

Tile and marble work (P)

House wrecking (R)
See MCL 339.2404.  Note that each of these trades can still obtain a residential builders' license, which may be beneficial to the contractor to show their overall construction knowledge and commitment to the industry.
We represent numerous contractors, subcontractors and suppliers in the construction industry.  They are hard-working people who are committed to excellence in their craft / trade, regardless of licensing requirements.  If you have any questions, please contact us.
-JWB